WHY WE ARE
HERE
"He put a new song in my mouth, a hymn
of praise to our God." (Psalm 40:3)
FREE MUSIC
DOWNLOADS
Free music?! Yes…at least for the foreseeable
future. Why are we giving away our many, many
hours of hard work for free? Because 7xF wants
to reach as many people as possible with the
good news of God's FREE gift of everlasting life
in heaven.
YOUR
OPPORTUNITY
Although Larry "L.A." Miller has assumed the
vocalist's responsibilities, 7xF would welcome
auditions for lead and background singers.
If you enjoy our music and have been blessed
with a good voice, let's

talk

! Maybe we can work
together for God's glory!
DEBUT CD
To hear or download any song for free, please click
on the album and you'll be taken to Wood n Nails'
music page.
ALL GOOD AND PERFECT GIFTS…
James 1:17 tells us that all good things
come from our Father above. I believe
that these good gifts include songs.
How can I claim the tunes He has given
as my own, when out of nowhere a
melody mysteriously pops into my
head? The glory is His alone!
REGIFTING IS A GOOD THING!
By divine revelation, the great
songwriter, King David, gave us some
excellent advice. Psalm 33:3 says to "sing
to the Lord a new song; play skillfully,
and shout for joy." In Psalm 98:1, he tells
us why: "…for He has done marvelous
things…"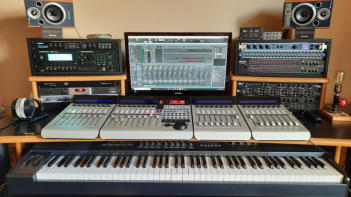 contact Larry "L.A." Miller at WnN Music
This week's feature tune by 7xF is the title track:
"Traversity"
Christian pop/rock/contemporary music and hymns
"I wanted to take a moment to say what a privilege and honor it is to work
with Larry. I have always wanted to play Christian rock, and he has been
kind enough to allow me this opportunity. His music and lyrics are a
testament to his love for his Savior and deep desire to share the Gospel
message.
In 2017, my wife and I realized it was time for a move. We literally put it all
in God's hands and went through the process with Him leading the way.
When the dust settled, our prayers and discussions had us relocating to
Las Cruces, NM. There we joined the church we had once visited the year
before.
That's where I met Larry, and in talking with him I realized the Lord had just
answered a prayer that I almost forgot about! He really does work in ways
that we cannot comprehend.
Thanks again to Larry. His patience, guidance, and friendship have been
remarkable in the reviving of my "old" career. He truly is a brother in Christ.
All the glory goes to God. We do this because of Him who loved us, and for
Him who is coming for us.
Rock on Christian soldiers!"
The "R"
Wood n Nails Music Has a New Band!
November 2018:
Earlier this year, we were delighted to
announce the addition of drummer, Rob Nelson,
formerly of the 80s heavy metal band, Stormtrooper.
You can check out some of Rob's work with
Stormtrooper
here
. Here's what he had to say about
joining the
W
n
N
team…
Together, Rob and Larry formed a band known as 7xF. As
Seven Times Fallen (see Proverbs 24:16), they have been
hard at work, and the Lord has blessed their efforts with
their debut CD, "Traversity."
The music is already available as free downloads on the
W
n
N
Music Page. Physical CDs -- complete with lyrics --
will be available November 20th, Lord willing. The cost
of individual CDs (including shipping) is yet to be
determined.
7xF thanks and praises God for giving them this music,
and for making this CD possible. May He use it to bring
glory to His great and holy Name! May the Lord bless it
as a voice that brings good news to the lost, and may it
bring peace, comfort, and joy to His ever growing family.
Be holy, because I, the Lord your God, am holy (Lev 19:2). Love
the Lord your God with all your heart and with all your soul and
with all your strength and with all your mind, and love your
neighbor as yourself. Do this and you will live (Luke 10:27-28).
Whoever keeps the whole law, and yet stumbles at just one
point, is guilty of breaking all of it (James 2:10). All have sinned
and fall short of the glory of God (Romans 3:23). The wages of
sin is death, but the gift of God is eternal life in Christ Jesus our
Lord (Rom 6:23). God made him who had no sin (Jesus) to be sin
for us, so that in him we might become the righteousness of
God (2Corinthians 5:21). You are no longer foreigners and
aliens, but fellow citizens with God's people and members of
God's household (Ephesians 2:!9). Whoever believes in the Son
has eternal life (John 3:36).
Wait! There's more! Is 7xF sitting on the laurel of
their first CD?
NO WAY!!!
The Lord continues to bless them, and work on their
second CD is well underway. Several new songs are
already finished.
Look for a sneak preview soon!